Research article

Open Access
Probing the folding of mini-protein Beta3s by two-dimensional infrared spectroscopy; simulation study
Received: 29 October 2009
Accepted: 19 March 2010
Published: 19 March 2010
Abstract
We propose to use infrared coherent two-dimensional correlation spectroscopy (2DCS) to characterize the folding mechanism of the mini-protein Beta3s. In this study Beta3s was folded by molecular dynamics (MD) simulation and intermediate conformational ensembles were identified. The one and two-dimensional correlation spectrum was calculated for the intermediate and native states of the mini-protein. A direct structure-spectra relationship was determined by analysis of conformational properties and specific residue contributions. We identified the structural origin of diagonal and off-diagonal peaks in the 2DCS spectra for the native and intermediate conformational ensembles in the folding mechanism. This work supports the implementation of computational techniques in conjunction with experimental 2DCS to study the folding mechanism of proteins. In addition to exploring the folding mechanism the work presented here can be applied in combination with experiment to refine and validate current molecular dynamics force fields.
PACS Codes: 87.15.Cc, 87.15.hm, 87.15.hp
Keywords
Cross PeakNative ConformationFolding PathwayFolding MechanismTurn Region
1. Introduction
The biological activities of proteins are determined by the specific three-dimensional structure and dynamical properties of the molecule. The activity of misfolded proteins has been implicated in diseases including Alzheimer's, Diabetes, Parkinson's disease, many cancers and cancer-related syndromes, consequently an understanding of the protein folding mechanism is of importance to pharmaceutical design and molecular biology [1–5]. Our understanding of protein folding has largely remained elusive due to the vast potential complexity of cooperative interactions involved in tracking such mechanisms [6–8]. Energy landscape theory provides a novel framework for understanding the global principles of protein folding in terms of funnels [9]. A greater understanding of this process can be facilitated by further insight into both the structural and dynamical changes that occur during the folding process. A combination of experiment and calculations has recently been developed to monitor these changes in tandem.
Traditionally the majority of experimental data on protein folding has been obtained through kinetics experiments which do not report on atomic level structural changes and thus the dynamics that characterize the folding process. Additionally, until recently, experimental methods with structural resolution have lacked the temporal resolution necessary to observe ultra-fast folding processes. These methods including 1DIR, florescence, NMR and XRD have resulted in indirect or time averaged information about the structure and the energy surface of proteins along the folding path. Although progress has been made by advanced NMR techniques combined with simulation lengthy folding processes have yet to be explored [9]. Recent advances in 2DIR correlation spectroscopy (2DCS), using techniques derived from NMR, are shedding new light on the mechanism of protein folding [10–14].
Similar to 1DIR absorption spectroscopy, 2DCS uses infrared wavelengths to probe the Amide-I and other vibrational bands present in protein structure [15]. The Amide-I band, consisting of the carbonyl stretch of the protein backbone is commonly probed by IR based techniques because it displays structural sensitivity due to coupling between in-phase bending of N-H and stretching of C-H bonds [16]. In proteins these bands respond to coupling between amide units and delocalization of vibrational states thus reporting on the size and secondary structure of proteins. Using advanced multiple pulse coherent spectroscopy techniques like 2DCS IR, transitions can be spread across two axes revealing vibrational couplings resulting from three-dimensional structural contacts [17–21]. Coupled with ultrafast optical techniques 2DCS IR spectroscopy results in a structure-based tool that is responsive at the ultrafast timescales present in the folding mechanism. Accordingly 2DCS IR spectroscopy is now being used to study unfolding processes in T-jump experiments.
It has been proposed that simulation of 2DCS IR spectra coupled with MD calculations can provide additional insight into the folding pathway, particularly when compared with experiment [22, 23]. The accurate simulation of one-dimensional absorption spectra of proteins by incorporating a dipole-dipole coupling scheme is well established [24]. Although the simulation of 2DCS IR presents greater challenges it is now increasingly possible to reliably calculate the 2DCS IR spectra for a variety of small protein structures [21, 25–28]. In these calculations a Local Amide Hamiltonian is generated with structural coordinates derived from MD simulations [28]. The signal is then simulated by a third-order response function dependent on all of the one and two-exciton states and their coupling to a thermal bath by the sum over states (SOS) method or nonlinear exciton equations (NEE). Spectra are calculated for structures, particularly intermediates, in a MD simulation of protein folding. The calculated spectra can then be compared to experimental 2DCS IR to elucidate new structural information about the folding mechanism. As increasingly accurate and tested 2DIR Hamiltonian models are produced comparison of 2D IR spectroscopy will become a viable approach to validate MD force fields [17–21, 29].
In this study simulated 2DCS IR was used to characterize the folding mechanism of the 20 residue β-sheet mini-protein Beta3s (Figure
1
). Beta3s, a de-novo three stranded β-sheet mini-protein, contains common protein structural motifs including a β-hairpin and an anti-parallel β-sheet [
30
,
31
]. The structure and folding of Beta3s has been probed extensively by NMR and through numerous computational studies, however much remains unknown about its folding mechanism [
18
,
32
–
37
]. This data together with the synergies of MD and 2DCS IR calculations provide a unique opportunity to reveal spectra-structure correlations and explore the folding mechanism of Beta3s from a structural perspective.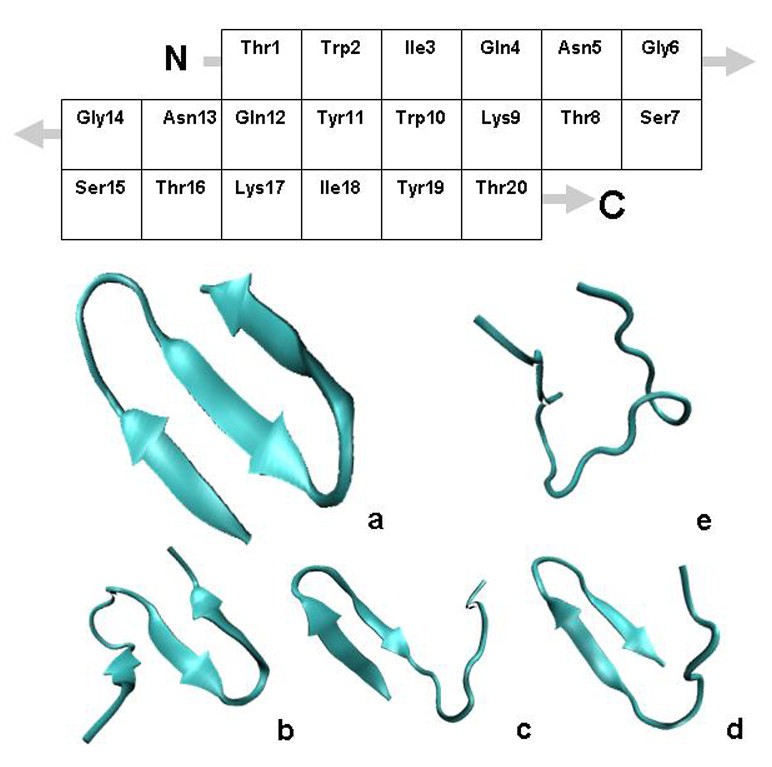 3. Results and Discussion
4. Conclusions
We have shown that 2DCS IR spectra of proteins coupled with conformational sampling though folding calculations can reveal significant structural information about the ensemble evolution in the folding mechanism. This coupled with experiment can help to provide unprecedented information about the folding process including structurally resolved folding kinetics. It is clear, even from the 1DIR, spectrum that the intermediates sampled in the folding mechanism of Beta3s exhibit distinct spectroscopic characteristics. Although 1DIR provides some insight into the specific conformation of the peptide the 2DCS method allows tracking of specific cross peaks and associated atomic contacts that provide critical indicators of the folding mechanism. The results presented here suggest that further insight into the folding pathway of Beta3s can be obtained from experimental work similar to T-jump experiments performed on Ubiquitin and Amyloids [61, 62]. Additionally, considering the extent to which the Beta3s peptide has been studied computationally by a number of models, theses results can also be applied to validation of molecular dynamics force fields [32–37].
Declarations
Acknowledgements
We would also like to thank Dr. Wei Zhuang and Brit Hyland for technical support and helpful discussions regarding data analysis. S.M. gratefully acknowledges the support of the National Institutes of Health (Grant GM59230), and the National Science Foundation (Grant CHE-0745892) This work was supported in part by J.W.'s 2005 NSF Career Award.
Authors' Affiliations
(1)
Graduate Program in Biochemistry and Structural Biology,, State University of New York at Stony Brook,, New York,, USA
(2)
Department of Chemistry,, University of California,, Irvine,, USA
(3)
Department of Chemistry,, State University of New York at Stony Brook,, New York,, USA
(4)
Department of Physics,, State University of New York at Stony Brook,, New York,, USA
Copyright
© Marai et al 2010
This article is published under license to BioMed Central Ltd. This is an open access article distributed under the terms of the Creative Commons Attribution License (http://creativecommons.org/licenses/by/2.0), which permits unrestricted use, distribution, and reproduction in any medium, provided the original work is properly cited.