Research article
Open Access
Stochastic reconstruction of protein structures from effective connectivity profiles
Received: 24 September 2008
Accepted: 26 November 2008
Published: 26 November 2008
Abstract
We discuss a stochastic approach for reconstructing the native structures of proteins from the knowledge of the "effective connectivity", which is a one-dimensional structural profile constructed as a linear combination of the eigenvectors of the contact map of the target structure. The structural profile is used to bias a search of the conformational space towards the target structure in a Monte Carlo scheme operating on a C α -chain of uniform, finite thickness. Structure information thus enters the folding dynamics via the effective connectivity, but the interaction is not restricted to pairs of amino acids that form native contacts, resulting in a free energy landscape which does not rely on the assumption of minimal frustration. Moreover, effective connectivity vectors can be predicted more readily from the amino acid sequence of proteins than the corresponding contact maps, thus suggesting that the stochastic protocol presented here could be effectively combined with other current methods for predicting native structures.
PACS codes: 87.14.Ee.
Keywords
Root Mean Square DeviationSecondary Structure ElementContact PatternEffective ConnectivityPrincipal Eigenvector
Introduction
The challenges presented by the protein folding problem have been approached from a wide range of different theoretical angles. Computationally convenient structural representations of protein structures such as lattice models [1, 2] or Gō-models [3, 4] have the advantage of simplicity and of capturing some of the more universal properties of the protein folding process. However, lattice models severely restrict the conformation space, and Gō-models consider primarily interactions between pairs of amino acids that are in contact in the native structure. This latter approach is inspired by the "minimal frustration" view [5], in which the assumption is made that non-native interactions play a relatively minor role in shaping the free energy landscape of proteins. As an alternative, sophisticated force fields that employ all atom representations of protein structures [6] provide results in good agreement with a range of experimental observations, but are computationally demanding and thus tend to be restricted to the study of the faster among the dynamical processes experienced by proteins.
In order to investigate whether an alternative trade-off between simplicity and accuracy can be found, in the present work we adopt an approach based on the use of structural profiles [7–11]. In this work, we begin to study this problem by considering the reconstruction problem from exact structural profiles, prerequisite to the investigation of folding energy landscapes.
Reconstruction as discussed in this study always operates on an explicit structure description and thus a successful "reconstruction" is equivalent to a folding process reaching the native structure. In this sense, our approach is similar to Gō-models as it uses information derived from the folded structure but dissimilar in the important fact that interactions are non-specific, i.e. there are interactions between all residues, not only native ones. As it is the case of Gō-models, an agreement between the dynamics of folding found experimentally and computationally would imply that the native structure of a protein largely dictates the path of folding [5, 12].
Another important reason for exploring the use of structural profiles is the correlation to (optimal) sequence hydrophobicity [10] allowing prediction of profile from sequence alone (without prior prediction of contact maps) with relatively high accuracy [13, 14]. These results open the possibility of using predicted structural profiles to aid, in turn, the prediction of the three-dimensional coordinates of the native states of proteins. One of the major problems in this type of approach, however, is that structural profiles can be predicted with only limited accuracy. Therefore it is key to establish procedures which are in principle able to determine three-dimensional conformations from the knowledge of approximate, or noisy, structural profiles. Stochastic methods are the most promising ones for solving this problem. In this work we make a step in establishing this approach by studying the problem of reconstruction of three-dimensional structures from structural profiles using a Monte Carlo procedure for a set of representative small proteins. A major advantage over work that we previously carried out [15] is achieved by using a more general structure profile and by restricting the structural profile to amino acids that form cooperative contacts and, in this sense, show protein-like behaviour, resulting in a more reliable reconstruction.
Even though our method is not meant to perform structure predictions on its own, the results presented here suggest that it might be convenient to incorporate predictions of the effective connectivity vectors as additional information into methods for predicting the native structures of proteins, in particular those based on the molecular fragment replacement procedure [16–18], which are currently the most effective ones for achieving this goal [19].
Results and discussion
Analysis of successful reconstructions
A reconstruction attempt was considered to be successful if a structure of the same restricted EC as the target structure had been found and therefore
E
EC
= 0. With the choice of
ω
= 10 in Eq. (
6
) this definition is equivalent to the minimum of energies
E
tot
encountered up to that point of the simulation. For all structures observed this also meant that the restricted contact map had been recovered completely (contact overlap
q
= 1),
Here
Q
t
is the set of contacts in the target and
Q
c
the contacts in the present structure. This corresponds to a contact overlap
q
full
to the full (unrestricted) contact map of 74% to 100% for the various proteins (see Fig.
5
). This percentage of recovered native contacts can be enough to allow reconstruction to good resolution [
26
].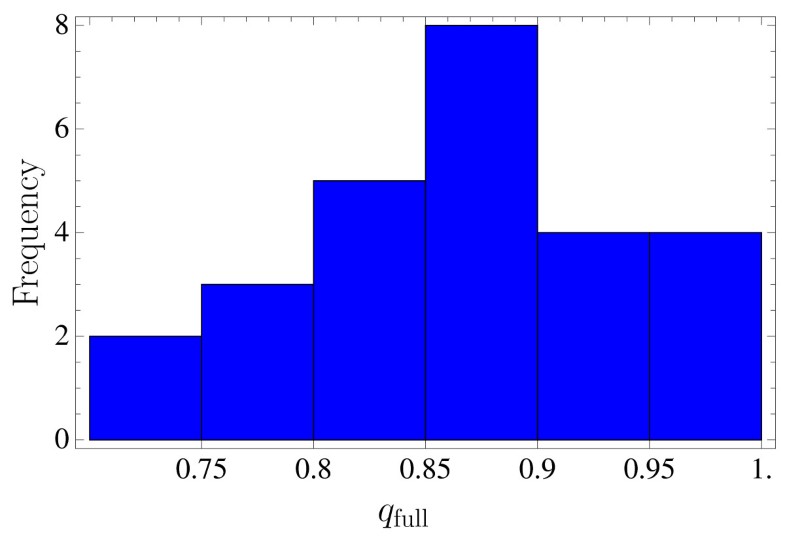 The root mean square deviation (RMSD) of C
α
atoms ranges between 2.2Å and 9.6Å over the entire chain. We explain these variations by the following considerations. The omission of unstructured tails at the ends improves the overall RMSD to between 1.5Å and 9.1Å. More importantly, there were many non-compact structures in the structure set. Compactness appears to be the crucial condition for low RMSDs, even more than a high content of secondary structure. Thus, compact structures (Fig.
6
) were reconstructed to low RMSDs while less compact ones (Fig.
7
) were considerably deformed even though
q
full
> 90%. This behaviour can often be observed for single
α
-helices or two-bundles as the helices that are at most weakly inter-connected can be deformed considerably without breaking the contact pattern (see Fig.
7
). Here, the resolution is almost as good as a Gō-model of the full, unrestricted structure would achieve. In the case of
α
-helices the problem could likely be eased by an improved version of the helix energy
E
helix
, for example by enforcing straight helix axes, but non-compact structures were generally problematic. Other structures can nicely be aligned piecewise to their targets but the relative orientations of the parts are poor resulting in a misleadingly high RMSD. Despite the sometimes large RMSD, no true ambiguity was found in the structure set, i.e. no alternative structures of the same EC.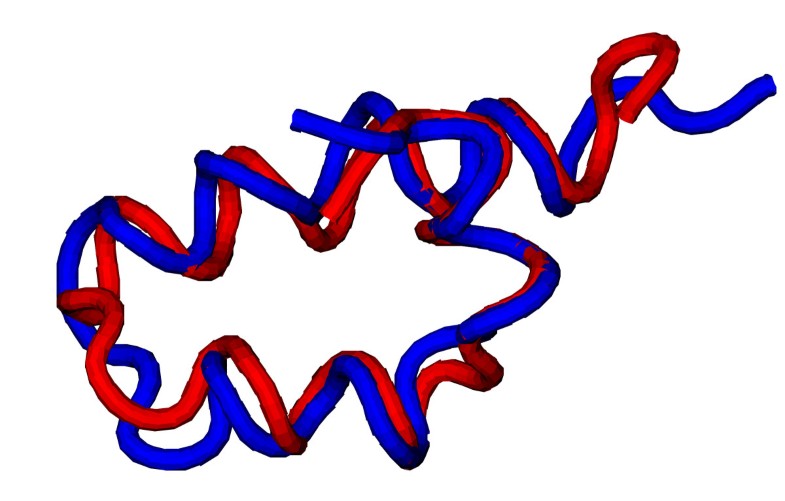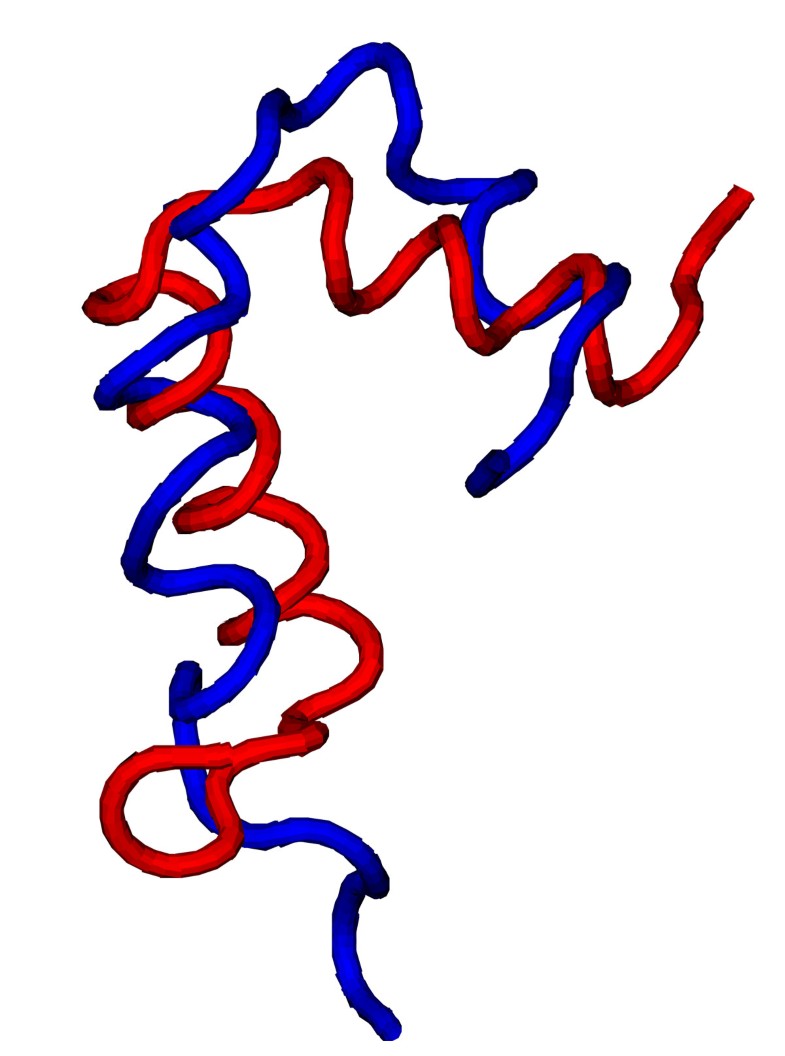 Reconstruction statistics
Successful reconstruction is not distributed evenly among the four SCOP classes covered by the candidate set (Fig.
4
). All-
α
proteins were most abundant in the set and also easiest to reconstruct (18 out of 29). Out of only four all-
β
proteins two could be reconstructed while none of the three
α
+
β
-proteins and six out of 18 small proteins (SCOP class
g
) were successful. Of these six proteins two had only
a
secondary structure, two only
β
and two both. The secondary structure assignment did not by itself favour
α
-helical over
β
-sheet contacts, but it was observed that once a secondary structure element had been formed it remained relatively stable for the rest of the simulation. This situation turned out to be problematic for the formation of cooperative contacts between amino acids distant along the chain, in particular in the case of
β
-sheet contacts between distant strands, while it was irrelevant for more local patterns like
α
-helices or
β
-hairpins. Only for very small structures (see Fig.
8
)
β
-sheets could be recovered. Increasing the length also expectedly made reconstruction more difficult owing to the larger conformation space to be sampled (Fig.
3
) – and also slowed down computation due to larger eigensystems to be solved. In total, 26 of 54 protein structures were reconstructed from their respective EC profiles.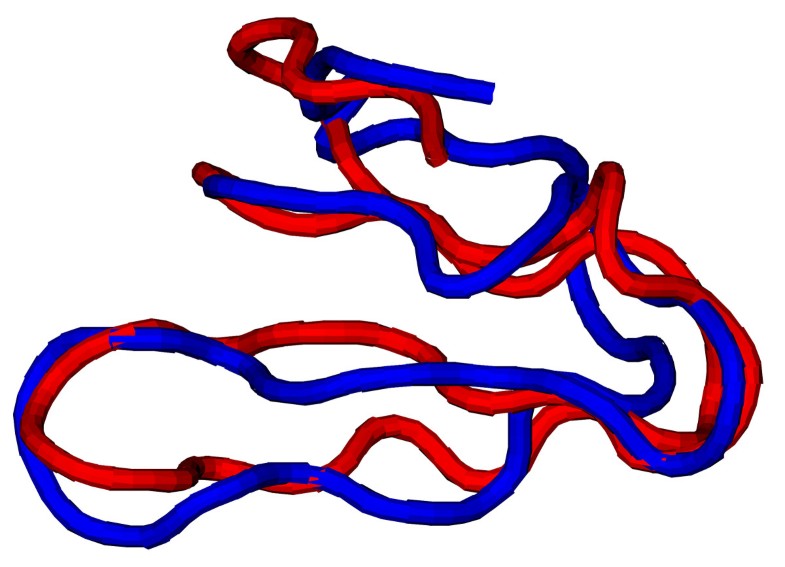 Conclusion
We have presented a stochastic scheme to reconstruct the three-dimensional structures of proteins from the knowledge of their effective connectivity vector. We have demonstrated that in its current implementation this method is rather effective for proteins in the all-α fold class but shows limitations for more complex proteins with non-local cooperative contacts. Since the stochastic method employed here was based on Monte Carlo simulations at fixed temperature, more advanced sampling techniques are expected to provide improved results, particularly for longer proteins. In addition, further improvements might be achieved by enhancing the sampling of long-range cooperative contacts.
The possibility of using effective connectivities to bias the sampling towards native states opens the way for investigation of folding dynamics using the description of non-specific interactions that we have discussed here. In addition, the fact that the structure profile can discriminate the correct fold from very similar structures, as is necessary in folding, and is predictable to quite good accuracy suggests its incorporation into existing powerful tools of protein structure prediction to exploit the information encoded in the profile. In future studies we will address the problem of reconstruction when the effective connectivity vectors are not known exactly but predicted from the amino acid sequences.
Declarations
Acknowledgements
We gratefully acknowledge financial support by the Deutsche Akademische Austauschsdienst, grant number D/08/08872, and The British Council, grant number ARC 1319.
Authors' Affiliations
(1)
Institut für Festkörperphysik, Technische Universität Darmstadt, Darmstadt, Germany
(2)
Department of Chemistry, University of Cambridge, Cambridge, UK
Copyright
© Wolff et al. 2008
This article is published under license to BioMed Central Ltd. This is an Open Access article distributed under the terms of the Creative Commons Attribution License (http://creativecommons.org/licenses/by/2.0), which permits unrestricted use, distribution, and reproduction in any medium, provided the original work is properly cited.